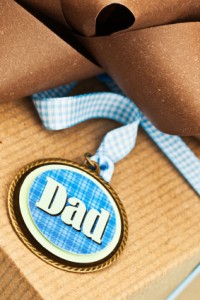 Father's Day is a holiday that affords us a good opportunity to express our gratitude and admiration towards our father. There are plenty of options to choose from, however the choice must be according to your own taste and it must reflect your unique feelings towards the person who raised you and who you respect the most. Here are several unique but simple Father's Day gift ideas that you may consider:
Breakfast in bed with a twist
In order to set this thing in motion you'll have to wake up early in the morning and make a delicious and healthy breakfast for your dad. It doesn't necessarily have to be anything fancy or complicated, it can be something as simple as his favorite fruit, a toast and a glass of orange juice or milk. Serve him breakfast along with his favorite reading material which is most likely the morning newspaper. As for the twist, while he is eating, try and provide him some homemade entertainment. For example you can sing a song, read him a poem that you have written about him and what he means to you, tell a joke or anything that will put him in a good mood. You will give your dad a special attention while having fun in the same time. Tip: A little preparation the night before will go a long way.
Offer Dad a gift certificate for one-on-one time
There's no doubt that mostly everyone these days has difficulty finding the time to spend some quality time with their fathers. In order to make your father know how much he means to you, you can offer him a certificate good for an evening or afternoon for a father-son or father-daughter time. If he's one who particularly enjoys dining, you can invite him to have lunch or dinner with you at his favorite restaurant.Tip: there are a number of websites that let you make printable gift certificates for free, such as http://www.freeprintablecertificates.net/category/giftcertificate
Write a letter telling him how much you love him
It is very important to let your father know how much he means to you, and what better way to do that rather than write him a special letter to express your feelings. All that it takes is a pencil and a sheet of paper on which you can write down how important he is in your life, after all, is not the value of the present itself that matters, it's the gesture.
Give him a personal coupon book loaded with coupons you've made
Do some research and see what your dad needs help with. Afterwards create a coupon book that will contain all the things that can help your dad and give it to him. The coupons can be about anything – for example you could offer to wash his car, clean the backyard or mow the lawn. Tip: there are a number of websites that let you make printable coupons for free, such as http://couponvertise.com/free_coupon_maker.shtml
Instead of- or better, in addition to the above, buy him something of value
If the budget allows you can buy him something of value. This can either be a gold watch, a collector's item, or anything of quality that he might be interested in. You can find these items easily online by doing some research according to your dad's preferences. Tip: naturally, our suggestion is original Black Hills Gold jewelry, made in America by Landstroms: http://www.blackhillsgoldsource.com
Also check out this YouTube video to learn about the history of Landstroms Black Hills Gold:
***If you've enjoyed this article, please link back to us at: