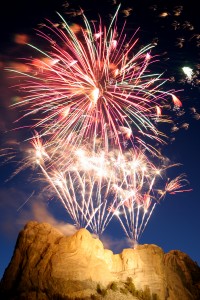 For those of you who were fortunate enough to see the July 4th fireworks at Mount Rushmore in the past, hold onto those memories because for the third consecutive year the National Park Service (NPS) has decided that fireworks will not be included in the celebration. Especially this year, with the wildfires that have devastated Colorado and other parts of the west, this may be inconvenient but is clearly essential.
"Mount Rushmore has successfully proven they can provide an outstanding July 3 celebration, in collaboration with Black Hills communities that can safely offer fireworks shows… Providing a celebration without fireworks for the 2012 Independence Day Celebration is the prudent course of action", said NPS Regional Director Michael Reynolds.
You can download the Mount Rushmore National Memorial News Release here:  Fireworks Eliminated from Independence Day Celebration (October 17, 2011)
However, despite the lack of fireworks, the National Park Foundation has still listed the Mount Rushmore celebration as one of its Top Ten Can't Miss Independence Day celebrations in the nation: http://www.nbcnews.com/id/24994044/ns/travel-seasonal_travel/t/top-places-celebrate-independence-day/
With over 21,000 July 4th visitors last year, Mount Rushmore offers many ways to celebrate Independence Day.
There will historical be re-enactments, music, food and fun for everyone. So come to Mount Rushmore and celebrate!
For a complete itinerary of events for the two-day celebration which started today, visit: http://www.nps.gov/moru/planyourvisit/independence-day-events-2012.htm
***If you've enjoyed this article, please link back to us at: